Pre-learning task - Rivers
Pre-learning task - Rivers
14 January 2022 (by Mrs Marshall (giraffes))
Take a look at the fantastic posters that have been produced by Year 3.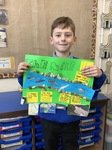 Over Christmas, Giraffe class were asked to make a poster on a famous river from anywhere in the world.
I have been super impressed with the bright and colourful, but very informative designs that have been handed in.
Click on the link to view all the fabulous posters...