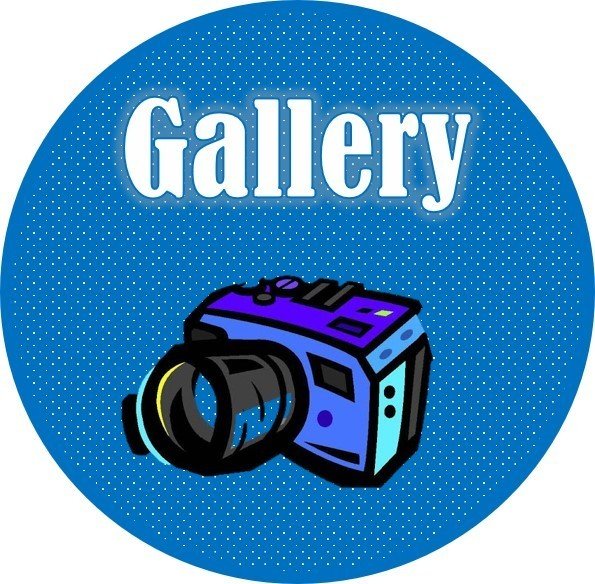 Sports inclusion games
This morning, we had a visit from Bolsover District School Sports Partnership to learn some new games. We learnt how to play Table Cricket, Seated Volleyball and Boccia. These games are designed to be inclusive, for all abilities and the children really enjoyed learning new skills and working as a team.
Pre-learning task
A big thank you to those children who have completed their pre-learning task for this half-term. The task was to create a poster all about a Stone Age animal, the poster needed to be bright and colourful but informative too.
I think you will agree that these wonderful posters have definitely brightened up the corridor outside our classroom, they are fabulous!
Easter egg hunt
Giraffes and Koalas had a fun time this morning collecting Easter eggs which must have been hidden by the Easter bunny?! It didn't take them long to find all of the eggs hidden on the playground and I'm sure they are looking forward to eating them all when they get home!
Road Safety
Today, Giraffe class had an online Road Safety workshop. We learnt about The Green Cross Code and also the importance of 'Stop, Look, Listen'.
We also focussed on what could distract pedestrians and drivers and how we could avoid these distractions and stay safe. We already knew lots of fabulous answers but have learnt a lot more about how to stay safe near the roads.
Fantastic flowers
As part of our science topic this half term, we wanted to learn about the different parts of a flower and the jobs that they had. The best way to do this was to dissect a flower and examine each individual part. The children were given a labelled diagram of a flower and their job was to identify the matching parts on their flower. They did a super job and really enjoyed it!
A visit from St Nicholas
When I asked the children which Christmas activities they would like to do, they suggested learning a Christmas poem. We chose 'A visit from St Nicholas' by Clement Clarke Moore.
They did a fabulous job at learning their lines and wanted to share their poem with you all. We hope you enjoy it!
Bronze award
Well done to these children who received their bronze badges and special pencils today. They achieved ten weeks without missing any Golden Time!
Comparing animal bones
Today, we were very excited to get our hands on some animal bones! Mrs. Marshall managed to get some pig and cow bones for us to look at and compare to human bones so we could see the similarities and differences between us and the animals. We were very fascinated by these and were brilliant at comparing them to Boris (our skeleton) to try and identify which bone it was. Our knowledge of bones is really growing and the children did really well with this task.
Skeleton drawing
Today, to help us learn all of the main bones in our body, we drew skeletons. We followed a step-by-step guide on how to draw all of the different bones and we then labelled them so we knew what the bones were called and where they are in our body. Take a look at our fabulous drawings....
Bronze award
Well done to the children who received their Bronze award this morning. These children have not lost any Golden Time over the last ten weeks and were awarded with their Bronze badge and special pencils. What superstars!
Meet Boris...
Yesterday, when the children came into the classroom, they were met by a special visitor! Boris had arrived in our classroom to teach us all about the different bones that make up our skeleton. Boris is an adult size skeleton and his bones feel very realistic to give the children an excellent idea of what is actually inside our bodies.
The name Boris was also chosen by the class and I think it really suits him!
Boris will be keeping us company in the classroom for the next few weeks while we answer the question 'Would we be jelly without our skeleton?'
Natural Skeletons
To kick start our new topic, trying to answer the question, 'Would we be jelly without our skeleton?' we made skeletons out of natural resources which we had collected from the playground, including sticks, leaves, moss and stones. The children worked in teams to create two skeletons looking carefully at the bones they needed to include.
I think they have done a fabulous job!
Performance poetry
As part of our English lessons, we have been learning a rhyming poem about giraffes. The children learnt their lines very quickly and were even remembering those of the other children too! We wanted to share our performance with you as they worked very hard on it. We hope you enjoy it!
School council and Eco team
Meet the new member of the school council and eco team for Giraffe class. These children were elected by a whole class vote.
I am sure they will do fabulous job at representing our class. Well done!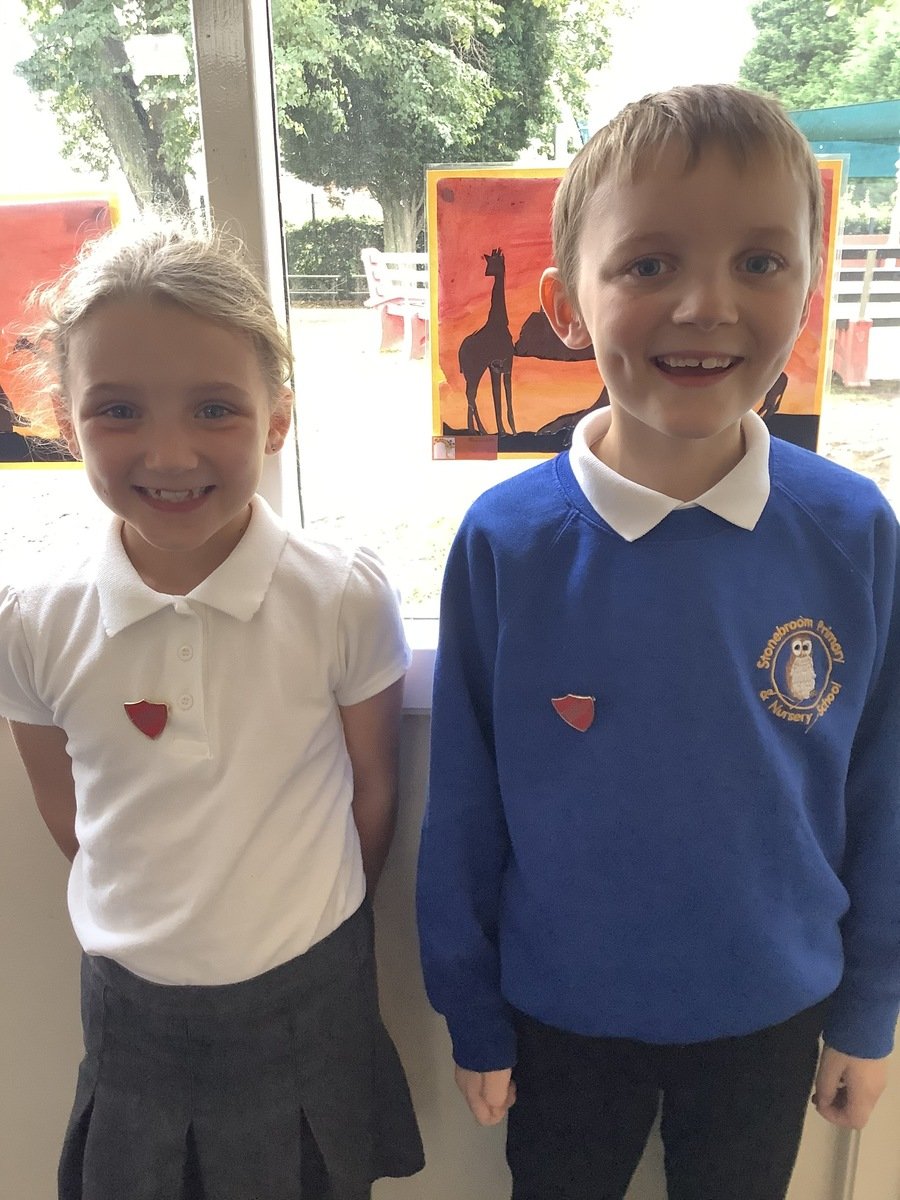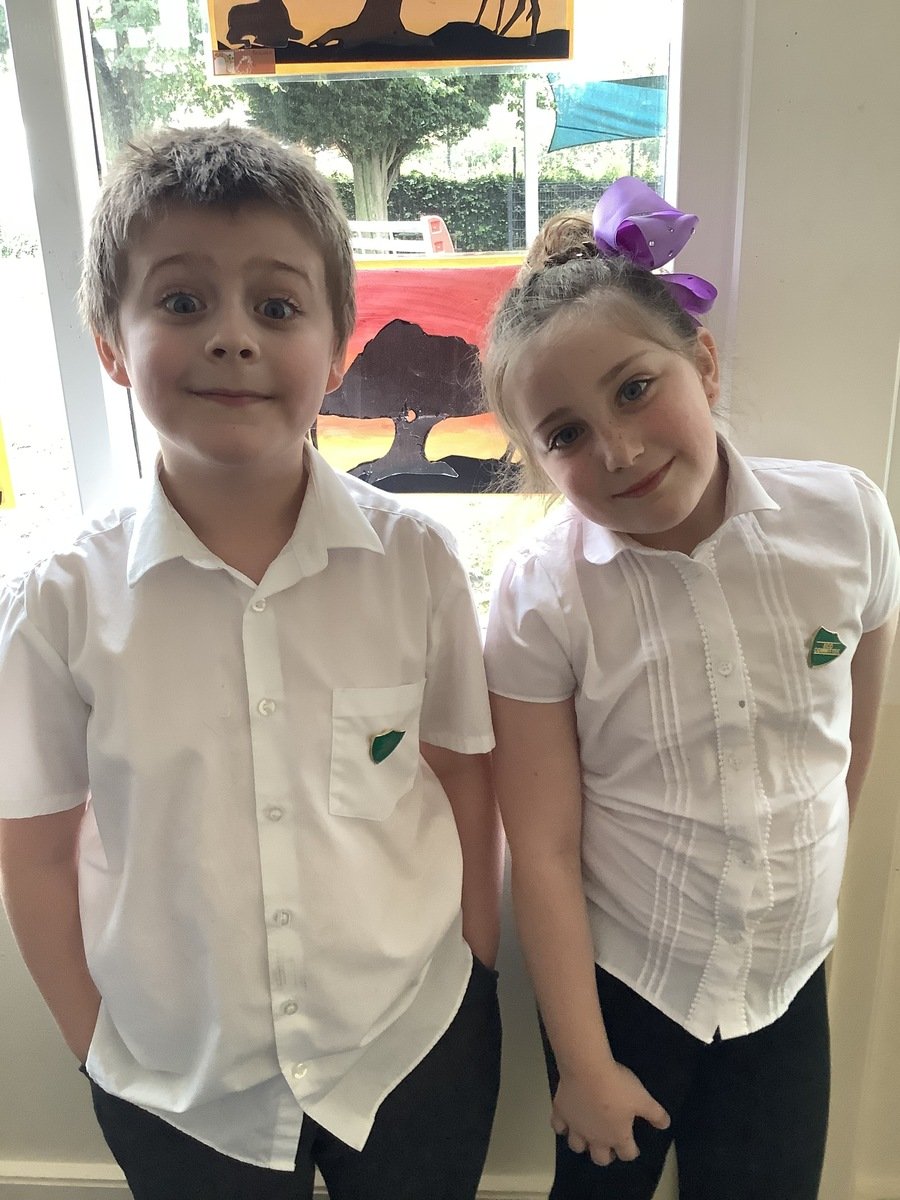 Scottish food tasting
Our learning challenge this week was to answer the question 'What food could we eat in Scotland?' so we tasted some traditional Scottish food. This included: smoked salmon, Aberdeen Angus beef, haggis, shortbread, oatcake, Scottish tablet and Cullen Skink.
Most of the food went down well, especially the Scottish tablet as this was a very sweet treat but the beef was also popular, there were even some clear plates!
Marvellous mirrors!
As part of our science lesson today, Giraffe class were discovering how mirrors reflected light. We then went outside and put our mirrors to the test by navigating our way through the maze, backwards! Using only our mirrors to guide us! We were very careful and all completed the maze, even though a couple of us got a bit lost on the way!
Giraffe artwork
Wow, what a fabulous first two days back at school we have had in Giraffe class! The children have settled into Key Stage 2 brilliantly!
Over the last two days we have been creating these impressive pieces of art to brighten up the corridor outside of our classroom and I think you will agree that they will certainly do the trick!