Current Year Group sessions Year 2 - MaY to JULY 2021
Please scroll down the page to see photos of our latest sessions.....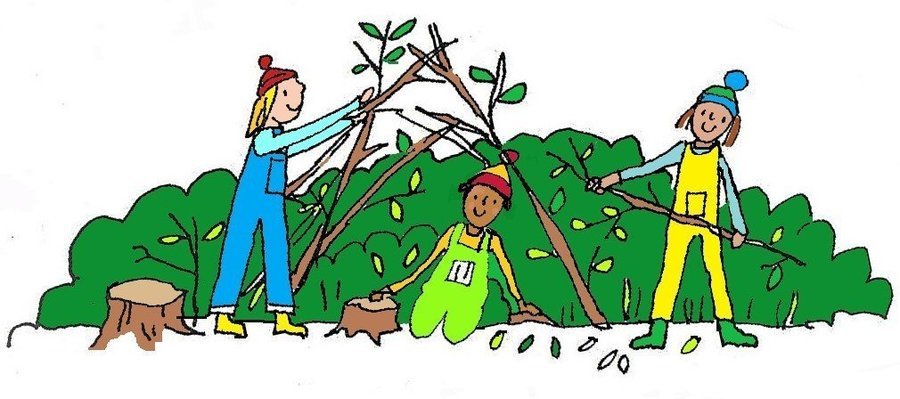 Year 2:
You will be starting your Forest School sessions this Tuesday and Wednesday (11th and 12th May). These will continue each week until the summer. We are looking forward to introducing you to our animals and the woodland.
Please click on the 'Planning' tab to see what we have planned for your Forest School sessions.
Please come to school in your Forest School kit on the day of your session.
Your Forest School kit should consist of:
Old joggers / leggings
Old t-shirt
Old sweatshirt / hoodie
Old coat
Wellies or boots (no trainers please) - in a bag please to change into after dinner
(you should wear your normal school shoes for the morning)
You WILL be getting muddy so PLEASE don't wear your best clothes.
For more info on kit and layers, please see main Forest School page.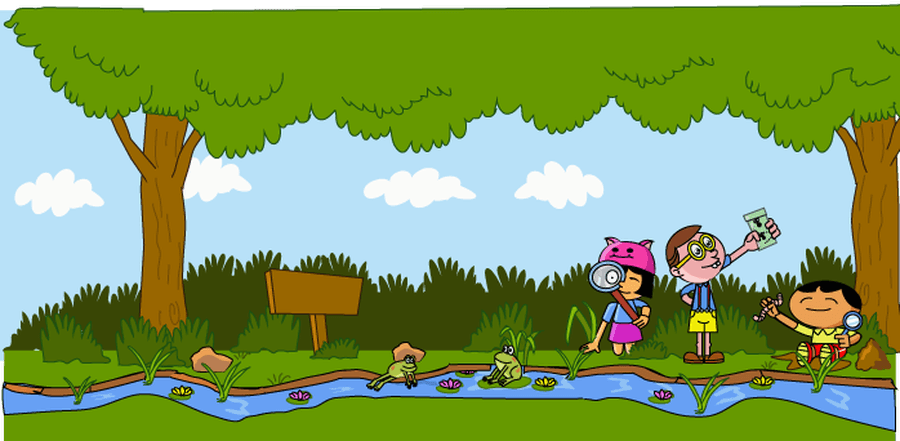 Year 6 had seven Forest School sessions between March and May 2021.
Session 7 - 5th and 7th May
Animal Park and River Assault Course!
After a quick visit to the Animal Park and a cuddle with our chicks (we now have 12!) we went into the woodland and made our way down to the north east corner (everyone knew which direction this was, we were very impressed!) where the path leads down to Morton Brook. The weather in both sessions was sunny at this point.....
We crossed the Brook and then had a Health and Safety Risk Assessment talk with Miss T. The assault course along the side of the river is quite steep in places and although everyone was encouraged to tackle at least the first part which involved climbing a steep and slippery path, no one was made to complete the course if they were not happy to do so. However, after a little trepidation from a few, some self risk assessing and superb communication between all of the group, every single member of our Year 6 class tackled this challenge with positivity and determination! On Wednesday the weather suddenly turned and we found ourselves caught in a hail and thunder storm. This was a good learning experience to remember to take enough layers of clothing, even if the weather is sunny at the beginning of a session!!!
Some of the group were very confident with this challenge as they tackle it independently out of school time, and we were so impressed with the care, consideration and help these children gave to the rest of the group, guiding, assisting and especially on Friday, pulling their friends out of the river when the path became so slippery, they found themselves gliding down the slope and ending up waist deep in cold water!
The wonderfully positive attitude of every one of these children absolutely amazed us, they laughed, kept trying, helped each other and some even went back for more!
Year 6, you should be very proud of your achievements during all of our Forest School sessions, but especially this week. You were all incredible!
Please take time to look at the photos, they will show you how amazing this group are.
Session 6 - 28th and 30th April
Forest School crafts and Meeting chicks.
Group 1 met Percy the Pigeon on Wednesday and Group 2 met our newly hatched chicks on Friday. Spring is really springing now! Only one of our broody hens has hatched any chicks so far, she hatched 6 on Thursday morning. They are very small and fluffy and Group 2 thoroughly enjoyed cuddling these SO cute little babies. Percy the Pigeon is growing fast and now has all his feathers. His wings look so much bigger now and he has also learned how to feed himself.
We decided to make bows and arrows, something that is not as straight forward as it seems. Firstly we cut some long willow whips off the willow trees on the Animal Park. We worked in pairs and used the loppers to cut the willow. Our team work, safety with the tools and communication were all exceptional. Once we each had a piece of willow, we needed to work it to make it more flexible. A lot of us remembered how to do this from Year 4 when the Willow Ladies, Natalie and Donna came in to teach us. Miss T taught us how to make a Clove Hitch (or fish on a dish) knot to attach the string to our bow. It is important to make the string really taught and all of us managed to do it with a bit of help. Once we had found a suitable arrow, using the bits of willow that were left after the goats had nibbled it all, we had to practice the technique of firing the arrow. We were all super safe with this and knew never to point our arrows either at each other, or at any of the animals.
We had a lot of fun with this activity and had to learn patience, diligence and 'stickability'. We helped and learned from each other and some of us (particularly LWh and ChJ) found that we were very good at archery.
Well done Year 6, another fantastic Forest School session!
Photos below.
Session 5 - 21st and 23rd April
Preparing our meadow planters.
We have three broody hens on our Animal Park and we are hoping the eggs will hatch very soon. We had a look at the hens sitting on the nest and Miss T carefully lifted some of the eggs so we could feel how warm they are. One of our ducks is also sitting on some eggs, so we may even get some ducklings too! Group 2 also met Percy the Pigeon. He is two weeks old and was given to Miss T by someone who found him at four days old. She has been feeding him lots and he has now grown all his feathers. He is very funny. Group 1, you will meet Percy next week. Percy couldn't go back to his nest because it was very high up in a tall tree. He couldn't have been left on the ground because he had no feathers and his parents wouldn't have been able to get him back to the nest either.
Both groups had 10 bags of compost to take down to the meadow where there are some raised beds / planters that a group of children took there during the Easter holidays. The compost has been dug out of the chicken coops on the Animal Park. We sorted the compost into well rotted and not so well rotted chicken poo and learned that it had all turned into non-smelly soil! There are lots of nutrients in this compost and Year 2 will be planting seeds in the meadow during their Forest School sessions in a few weeks time.
Our team work and communication was incredible this week, we really worked well together carrying the heavy bags of compost and manoeuvring the wheel barrow down to the meadow. We tipped the compost into some of the planters and we were all surprised at how much more we will need to fill all the planters!
We were left with 10 empty bags so Miss T and Laura asked us to collect deadwood from around the meadow so we will have plenty for our camp fire. Some of us collected big sticks (we had lots of fun trying to break some of these), and some of us collected kindling, which is all the dead stalks from last year's hogweed, cow parsley, dock and nettle. We carried these back up to the top of the woodland and Miss T will store these in her garage until we need them.
Well done Year 6, you all worked really hard this week and we got lots done.
Thank you.
Miss T and Laura.
Have a look at our photos.
Session 4 - 31st March
Orienteering and Easter Egg hunt in the woodland
The weather was absolutely beautiful today and Mr Walmsley joined us for a whole class session in the woods. We were given a map of the woodland and Miss T asked us to 'ground' our maps. We worked out where we were on the maps and talked about compass points and which direction was north, south, east and west. There were some numbered orange triangles marked on our maps and Miss T said there were corresponding markers hanging in the woodland which we needed to find by staying on the woodland paths and using our maps to locate them.
We split into groups of two or three, were given a number and we set off independently in our groups, to find our particular marker. These were quite well hidden and some of them were difficult to find. There was a log cookie in the marker with an instruction for a Forest School action, eg "jump like a frog", "zip up your coat", "balance on a log". We needed to think of a mime for this action to act out in front of the rest of the group back at the log circle.
Miss T also told us that somewhere near to our markers we would find a small package tied up with yellow string. When we all returned to the log circle with our packages, we found that they contained Easter Eggs for us to share. Each group acted out the action on their log cookie and the rest of the group tried to guess what it was.
We had a wonderful Easter Egg hunt session today and our behaviour was fantastic.
Have a look at our photos below.
Session 3 - 24th and 26th March
Learning how to care for our animals.
We spent both our Forest School sessions on our Animal Park this week, learning how to care for everyone who lives there. Some of the jobs are a bit messy and smelly, but it is essential to make sure all the animals are kept clean to keep them healthy; their water needs changing regularly and their sheds / coops need to be swept, cleaned out and poo-scooped every week.
We learned that the goats need to eat a lot of hay every day to help keep their digestion in good order and the guinea pigs have to have a lot of fresh veg along with their dried food to keep them healthy. Two of our hens have gone broody, which means they are sitting on their eggs and will hopefully hatch some chicks within the next few weeks. The hens will sit on the eggs for approximately 21 days, they only come off the nest for five minutes a couple of times a day to eat, drink and have a stretch. They fluff out all their feathers to keep the eggs warm. We had to be careful which eggs we collected this week, but mama hen let us know when we went too close to her nest! The ducks are laying really big blue eggs and Miss T has set up a hutch outside the gate of the Animal Park with hen, duck and quail eggs for sale. We helped to sort the eggs out and put them in the trays in the hutch. Miss T. says they sell really well and the money goes towards buying food for the animals each week.
The pigs are all on diets now because of the amount of food they have had during lockdown. They are only allowed fruit and veg scraps now, so at least they can still have our fruit waste from school!
We learnt a lot about our animals this week and some of us asked some really good questions about their care.
Have a look at some photos below.
Session 2 - 17th and 19th March
Improving our Forest School site and a visit to the pond.
After a quick hello to all our animals we went straight into the woodland this week. Group 1 emptied the litter bins around the Forest School site and took the heavy bags up to the gate at the top of the woodland; Group 2 collected some leaf litter from near the school gates and spread it around the tall rope swing in the woods. The ground around the swing has become very worn and some tree roots were showing. The leaf litter covered these exposed roots to protect them and to give a softer landing if anyone should fall off the swing. We found lots of creatures in the leaf litter and we made sure they were well buried when we scattered it around the swing.
After a short chat on the log circle both groups went down to the pond. On Wednesday it was a warm and sunny afternoon and we found 13 frogs and lots of frogspawn at the pond; the weather wasn't quite so warm and sunny on Friday but we could still see lots of frogspawn and at least one frog who was looking after it. We learned that it is really important not to disturb the frogs or the frogspawn or to take anything out of the pond so we lay on our tummies to carefully touch it without agitating the water too much. The frogspawn had only just been laid by the frogs so it will take a couple of weeks and some more warm sunshine before it hatches into tiny tadpoles. On Wednesday some of us managed to gently tickle the frogs under their chins!
We had some plastic bottles to pond dip with. These are much better than nets which churn up the mud and silt which in turn disturbs the creatures living there. Nets will also damage the delicate plant life in the pond, breaking stems and pulling up roots. We carefully dipped our bottles into the water and we managed to find lots of fresh water shrimp and some small leeches. We made sure we carefully poured the water from the bottles back into the pond. It was very exciting and we made sure we left everything in the pond just as we found it.
Have a look at some photos from this week's Forest School sessions.
Session 1 - 10th and 12th March
Introduction to our Animals and Planting Trees
We went down to the Animal Park to meet our animals. We fed the goats and met Scooby and Shaggy who came to live on the Animal Park in August 2020. We also met our four ducks and found lots of eggs in their shed. We fed the chickens and collected their eggs too, and we gave Horace and Olive, our pigs, a bit of food out of the school fruit waste piggy bucket. All our pigs are on diets because they have been so well fed by members of the public recently that they have put on a bit too much weight. Horace weighs a whopping 32 stone!
We went back up on to our school playground to plant some trees. We have had a Japanese cherry blossom tree donated to school, so Wednesday's group planted that and Miss T. had been given a pear and an apple tree so Friday's group planted those. We had to dig a really deep hole for each tree and Wednesday's group unearthed a hibernating bees nest while digging their hole! The bees were only small and they were very sleepy, so we very carefully put them back into the ground once we had planted our cherry tree. We were careful not to step on them and we watched them burrow back into the ground. We watered our trees lots and lots (away from where the bees were) and hopefully we will see some buds appearing on them soon.
We also had a look in the raised beds that were planted with carrots and leeks last summer. We pulled up some of the vegetables and found that the carrots had all wound themselves around each other! They were a bit too tough and woody to eat so we put them in a bucket for the pigs.
We really enjoyed our first Forest School session and we're looking forward to getting into the woods next week.
Have a look at some photos below.