Current Year Group sessions
Year 6 (sharks) January to March 2023
Please scroll down the page to see photos of our latest sessions.....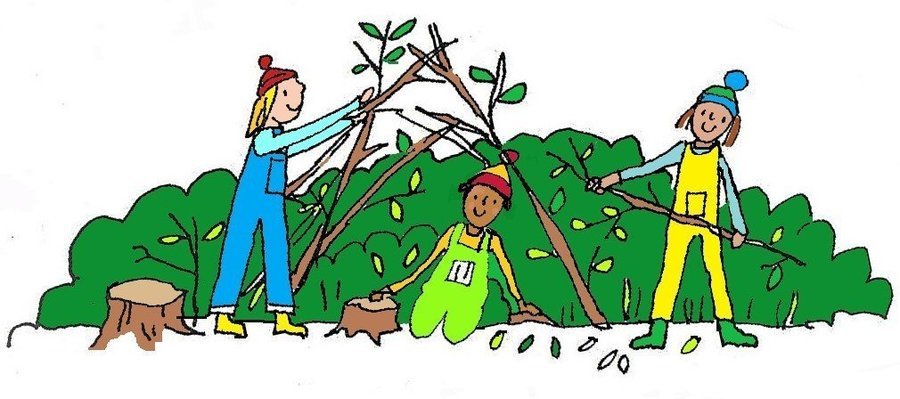 Year 6 (Sharks)
Welcome to your Forest School activities page!
Here you will find details and photos of all our sessions in the Woodland and on the Animal Park. Please scroll down the page to see what we're getting up to each week!
We are already nearly at the end of our 10 weeks of fabulous Forest School sessions! You have shown Miss T and Laura what amazing initiative, problem solving skills and team work you all have. Our pond is all cleaned out and we have a wonderful new lagoon area with a fabulous dam! Over the last two weeks, we have seen about 20 frogs in the pond and there is so much frogspawn! We have been learning that we should not disturb the pond at all now, so the frogspawn has a good chance of hatching in a couple of weeks or so.
If you or your grown up are unsure about appropriate clothing to wear for Forest School, please click on the main Forest School page. Thank you.
Each week we visit our Animal Park and we've been seeing how our goats, pigs, ducks and chickens are getting on during the recent snowy and wet weather. We have new chicks already and we've been talking about the needs of all our animals. We are now beginning to realise with how much there is to do on a daily basis to keep all our animals safe, warm, well fed and happy! You are all showing amazing team work and you know what jobs there are to do now and you just go and get on with them!
Details of the planning for the term can be found by clicking on the tab to the left marked 'Planning and Risk Assessments, current year group' (if you are on a laptop) or by tapping MENU / Forest Schools / Planning and Risk Assessments, current year group if you are on your phone or tablet.
Please scroll down the page to see a week by week account of our super Forest School learning!
Session 9 - 21st and 23rd March (Kingswood week)
Campfire Bread!
The Year 6 children who hadn't gone to Kingswood this week had a Forest School session on Tuesday and the Year 5 children who had not gone to Kingswood had a Forest School session on Thursday this week.
We spent some time on a very sludgy and muddy Animal Park and had a look at the 5 chicks that hatched last week, as well as the 6 chicks that are now three weeks old. We couldn't believe the size difference between the two broods! On Tuesday, the Year 6 children asked if we could let Olive out of her paddock so they could tidy and sweep the muddy paving slabs. Olive was very well behaved and pottered around the Animal Park tidying up all the fruit scraps whilst we made her paddock a little less muddy! When Miss T called Olive she came straight back and went into her paddock. She was so good! Horace was a bit grumpy that he hadn't come out, but Miss T said she would let him out later. Our five naughty goats were very hungry so we made sure they all had some fruit scraps too.
We went into the woodland and talked about camp fire safety before building the fire pit, collecting tinder and kindling, building the fire and having a go with the fire steels to see if we could make a spark. On Tuesday, we managed to get a really good fire going but we could see rain clouds coming over and when it rained, it almost put the fire out! Miss T and Laura managed to get it going again and then we made fire bread. This is self raising flour, a bit of sugar, ginger and cinnamon and some oat milk to make a dough. On Tuesday we rolled the dough in our hands and carefully placed it on the metal grid over the fire. It cooked really quickly and Miss T had to get it off the grid before it burnt too much! We dipped it in Laura's home made jam and it tasted delicious, even the burnt bits were tasty!
On Thursday, we build the firepit with a bit of help and we put the tinder and kindling into the pit with some smaller sticks. We got the fire going with the fire steels and then we made the fire bread. This time we decided to wrap the dough around willow sticks and held it over the fire turning the sticks to stop the bread from burning. This worked a lot better and our fire bread was really delicious! One member of our group sat and munched his way through five or six pieces!
Miss T and Laura talked to us about how we must never try to make a fire without a sensible adult with us. Fire is very dangerous and can spread and get out of control very quickly. We were super sensible all the time and really enjoyed our Forest School sessions this week.
Session 8 - 14th and 16th March
Two Busy Sessions!
We covered a massive amount of learning in our Forest School sessions this week!
On Tuesday, after visiting a very muddy Animal Park Group 1 went down to the pond and looked at how deep the lagoon was after the mini Forest School group (Yrs 3 and 5) had made a superb dam on Monday. We added to the dam and then unblocked the overflow from the main pond and the water really gushed out into the lagoon! There was some super communication and team work and the dam was even better by the time Group 1 had finished!
Group 2 (Thursday) also did some jobs on a very muddy Animal Park, and we found that our second Mama Hen was busy hatching some chicks. She had two that had just hatched and another egg was "pipping". This means the chick was just beginning to chip through the egg shell - we could see a tiny crack and we could hear the chick cheeping inside the egg.
Group 1 wanted to have a look at the river as there was a lot of water in at after the melting snow had filled it up! We decided to go and explore the river and talked about the river walk that we will all do when we come back from Kingswood. We waded up down the river and then walked back through the meadow. We had to empty our wellies several times as the river was really deep in places!
Group 2 went into the meadow to prep some more logs to frame Mrs Kaye's tree after Group 1 removed the tyre last week. Miss T talked to us about using the bow saws safely and we looked at the different blades used for cutting green wood and for cutting dead wood. We measured some logs to fit around the tree and then showed some brilliant team work and super sensible behaviour while cutting them to size. Some of us worked on the willow den, planting some new willow whips where there were gaps in the den, then weaving the new whips in so hopefully they will strengthen the den when they start to grow. When we had cut the logs we looked at the rings inside and Miss T told us that each ring represents one year of growth. We counted the rings and found that one branch was 12 years old and another was 19 years old!
Have a look at our photos below, two really good sessions again Year 6, well done!
Session 7 - 7th March (Group 1)
Pond life and work in the meadow.
Only Group 1 had a Forest School session this week as school was closed on Thursday afternoon because of the snow.
We had a super session on Tuesday and Group 1 had the chance to see all the frogs and frogspawn in the pond. We only spent a short time on the Animal Park this week, but we did get the chance to see the chicks that hatched last week and give them a cuddle in the sunshine. We spent quite a bit of time at the pond learning about how careful we need to be and how important it is not to disturb the frogs or frogspawn. We also decorated the bench that we painted last week, and wrote some messages on it asking visitors to respect this area and look after our pond!
We went into the meadow and we talked about Mrs Kaye's oak tree that was planted to remember her. It is coming back into bud and Miss T asked us to remove the tyre that is surrounding it before the tree gets too big. There was some super communication as we discussed the best way to do this and there were cheers of satisfaction when the tyre was successfully lifted over the tree. We rolled the tyre out of the way and we will use this as a planter later in the season. We found that some of the tree roots were exposed after removing the tyre and discussed what else we could put around the base of the tree to protect the roots. We found some large tree branches left from when the tree work was done in the woodland last week, so we brought them to the benches, measured (with our feet) how long we needed these to be and we carefully used a bow saw to cut the logs to the correct length. Miss T showed us the different types of bow saw blade, one for cutting green wood and one for cutting deadwood. We were super sensible with the bow saws and communication and team work was superb. We arranged the logs around the tree and we will complete this task next week. We also looked at the rings in the sawn logs and we learned that each ring counts as one year of growth. We counted the rings and found that these logs were from a 12 year old tree.
Some of us repaired the willow den by weaving some of the long willow whips around the existing structure. The whips are beginning to grow and the soft furry buds we lovely to touch.
Have a look at our photos below.
Session 6 - 28th Feb and 2nd March
New life! Spring has sprung!
Group 1 worked really hard on our Animal Park on Tuesday. We weren't able to go into the woodland as the arborists were doing some essential tree work. Both groups spent time with our chickens and we trimmed some of the feathers on their feet that have grown really long, making it difficult for them to walk! We found that some of the birds had scaly leg mite. This is where the skin on the chicken's legs becomes all scaly and flaky so we coated the legs in Vaseline. This will suffocate the mites and heal the skin. Some of the chickens were really difficult to catch as they don't really like having this done, but we tempted them with some tasty treats and they soon settled down and let us get on with the job! There were lots of jobs to do on the Animal Park after having a week off and it was really quite useful spending Tuesday's session down there. The goats loved all the attention (and food!) and even Neddy is getting used to us now. We painted the benches from near the pond, and next week we will all sign them to say that Year 6 made the pond "frog ready" in 2023! We are very proud of our work!
When Group 2 went into the chicken coops on Thursday to trim chicken feathers, we saw that our broody hen was sitting in the middle of the coop with all her feathers fluffed out... she wasn't on the nest.... so Miss T lifted her up gently and four tiny chicks ran out from underneath her! We weren't expecting them to hatch until next week! That was a lovely surprise!
Group 2 went down to the pond as we have had a bit of damage there recently. Some people have been throwing sticks into the pond, damaging the plants and pulling the rocks off the overflow so we went down to fix it. When we got there, the pond was alive with frogs and frogspawn which made us so happy! All our hard work digging the silt out of the pond and creating the new lagoon area has paid off! We were very sad that some people come down and damage this beautiful habitat and we spent time putting this right and then we really enjoyed just watching the wildllife in the pond and some of us managed to tickle the frogs very gently under the chin! Miss T carefully moved some of the newly laid frogspawn to the edge of the pond so we could feel it, it is very slimy and wobbles like jelly! Miss T taught us that we should never lift the frogspawn out of the pond as we could damage it, then it wont hatch into tadpoles. She made sure she moved it carefully back away from the edge of the pond. We should never try and hold the frogs either as this will scare them. It's much better to just spend time watching them in their natural habitat, it's very soothing and relaxing!
Two super sessions again this week Year 6, thank you!
Session 5 - 16th Feb
Clay pots and moving pond plants
Only Group 2 had a Forest School session this week, as Year 6 had their Bikeability session on Tuesday. We will make sure you get an extra session after half term, Group 1!
Group 2 spent some time, as usual on the Animal Park - we cleaned out the welly wash pond, altered hosepipes around so that water went where we needed it and we collected 53 eggs from the duck and chicken coops!
We think we may have a broody hen, which means that one of our hens has been laying one egg per day on her own nest (no other hens allowed to lay there!) for 10 days and has now moved on to the nest to incubate her eggs. She will stay on the nest for between 21 and 28 days (depending on how warm the weather is..) and hopefully she should hatch her eggs between the 7th and 14th March. She will leave the nest for approx 5 minutes per day to eat, drink and stretch her legs, but she will spend the rest of the time keeping her eggs warm so they that healthy chicks are hatched at the end of the incubation time! We will keep you updated!
We went down to the pond and were very happy to see that the frogs are beginning to move in, ready to lay their frogspawn! We saw about 6 frogs with their heads popped up above the water and we could see some swimming too, because the water is so clear! We moved some iris plants into the lagoon area and we made a dam across the bottom of the lagoon area too!
Some of us made some clay pots with the clay we have been digging out around the lagoon. We found there were several different colours of clay and when we mixed a bit of water in with it, the clay became smooth and more pliable.
A lovely relaxed Forest School session at the end of a very busy half term!
Have a look at a few photos below.
Session 4 - 7th and 9th Feb
Pond work completed
Year 6, you have completely astounded Miss T and Laura this week! Our time on the animal park was amazing, we opened the gate and you just went and completed jobs without needing to ask what to do! Water containers were cleaned and filled with fresh water; goats were fussed and fed calmly and with so much love; eggs were collected and boxed efficiently and you were all so confident with Horace that he didn't know who to 'sit' for first! You spent time chatting to Olive and the chickens and made sure all our animals had plenty of fresh hay too!
As if that wasn't enough amazing team work and enthusiastic behaviour, when we went down to the pond, you were all so excited to get this project finished, and you all worked so hard! We dug the lagoon, we scooped out the silt and sediment from the pond with our bare hands (the pond water was SO cold!) and we used the clay to 'cement' the rocks and logs around the pond AND our new lagoon! On Tuesday, we lifted heavy rocks and logs out of the pond using amazing team work and we used bow saws on Thursday to saw some logs to frame the lagoon and you worked out how much log we would need to fill each gap, by measuring the gap with your feet!
Our pond area is now completely renovated, and when we went down on Thursday, there was a frog just sitting there waiting for us, asking us to get it finished! The area looks wonderful now, and after school on Thursday, Miss T saw five members of the class coming to the woodland independently just to go down and see the finished project! Hopefully the frogs will move back in now and start laying their frogspawn soon!
I am at a loss for words this week Year 6, you have completely surpassed all expectations with this project, you have used initiative, incredible team work skills, fantastic communication, brilliant organisation and sharing of tools and brilliant problem solving skills, your ideas were amazing and our pond looks absolutely wonderful. I have asked Mr Moss to give each and every one of you a merit for this, you all deserve it!
I will add a photo of the pond area once all the water has cleared and the plants have settled, but have a look at the photos from our sessions - it has been a very muddy project!
Session 3 - 31st Jan and 2nd Feb
Pond work!
After spending a bit of time on the Animal Park, doing our weekly jobs (and by the way year 6, you are showing some amazing initiative and team work while getting these jobs done, Miss T and Laura are REALLY impressed with how much you all get done each week!), we made our way down to the pond. It was really windy on Tuesday and on Wednesday there were a lot of deadwood sticks on the ground that had blown out of the trees during the windy weather. Thursday's group spent a bit of time picking these up and putting them into bags - they will make excellent firewood. We learnt that if a stick snaps with a loud crack, then it is dead or dried out wood. Some of the bigger sticks were difficult to break so we worked out an ingenious idea to break them, you'll see on our photos!
We had a look at the pond and talked about how the silt and sediment has built up over the 5 years since the pond was initially dug out and how the inlet from the spring that feeds the pond is beginning to get blocked. We will need to remove some of the sediment to allow this to flow properly again, but we needed to dig a 'lagoon' at the side of the overflow river so that any creatures that are in the silt will be able to make a new home there. Both groups set to work and dug out the clay and soil to make the lagoon. This was very messy work and there was lots of mud face painting happening too! We have kept a big pile of the clay and will make some pots and clay figures next week.
On Tuesday a small group worked with Miss T and Marg to clear some prickly bushes that had overgrown at the back of the pond. We worked with loppers and were super sensible with the tools. Again there was some amazing team work, good verbal communication and excellent sharing of all the tools.
On Thursday a small group worked with Miss T and peeled back some of the pond liner that had become exposed, so we could dig out the soil below, relay the liner and cover it with rocks, soil and plants. When we peeled back the liner we found that 5 frogs had made a winter habitat down at pond level and that they had made a cave that took them in and out of the pond! We were careful not to disturb them and we carefully relaid the liner when we had dug some of the excess soil out. One member of our Thursday group planted some seeds in a small pot and placed it in one of the tyre planters to remember her grandad.
Two excellent sessions again this week Year 6. We will finish the pond project next week, and make sure everything is tidy and settled before the frogs start laying their frogspawn!
Have a look at our photos below.
Session 2 - 24th and 26th January
Orienteering in the Woodland.
We spent some time on the Animal Park again this week. The weather has warmed up a little and the water wasn't frozen any more, so the ducks had fresh water in their pond! Everywhere was very muddy so we tidied up a bit, collected lots of eggs, relaid a paving stone that had moved in Horace's paddock, cleaned out water tubs and swept the roof of the goat shed! We made sure the goats had lots of fresh hay and then we tidied up the tools and headed into the woodland.
Miss T and Laura re introduced the woodland maps and we talked about grounding our maps and finding landmarks. Miss T and Laura had hidden some log cookies in various locations around the woodland that corresponded with numbered markers on the map. We split into pairs and were given one of the numbers to find on the map. We worked out a route using the pathways and set off to look for our log cookies which were hanging from trees close to the location of the marker on the map.
Our log cookies have Forest School 'actions' on them, eg. 'look for tadpoles' or 'rake the leaves', or 'be a goat' with a picture of the 'action' on the cookie too (these are not cookies that we can eat, they're log slices!). We had a chat in our pairs and worked out how to mime the action on the cookie that we had found. We all returned to base (log circle on Tuesday and meadow on Thursday) to act out our mime to the rest of the group. This was very funny and some of us got quite carried away with our mimes! Obviously we couldn't make any sound, and this was quite difficult when one pair needed to 'be a cockerel'!
Two super sessions again this week Year 6!
Well done - super behaviour and lots of hard work, as well as lots of fun with the mimes!
Session 1 - 17th and 19th January
Our Animal Park in winter!
The weather was very cold for both our sessions this week and we had a talk about wearing enough layers of clothing to keep us warm during our Forest School sessions. Everyone was well wrapped up so we headed down to our Animal Park to do some essential winter jobs. It was lovely to see Norris, Norbert, Ned, Scooby and Shaggy, our goats again and we fed them some fruit scraps from the school piggy bucket. We had a look round the Animal Park to re familiarise ourselves with everything and we said hello to Olive the pig who was grunting loudly for some food! She had some fruit scraps too and then we let Horace our 30 stone pig out of his enclosure. He was so pleased to see us that he ran all the way to the top of the Animal Park! We made sure he had some food too and then we had a look at our ducks and chickens. The Animal Park is very muddy and messy at this time of the year but a lot of the ground was frozen too. The water containers all had a thick layer of ice on the top so we removed this so the animals could have a drink. Miss T said she has had to do this several times a day, this week, because the water containers keep re-freezing!
There are a lot of extra jobs to do over the winter to make sure all our animals have everything they need, so we set to work cleaning out chicken coops, digging Horace's poo pile and cleaning out his shed and we also tidied our guinea pig hutch out because we have no guinea pigs left now, the last ones died just before Christmas. Everyone worked really hard and the coops and sheds all looked a lot cleaner and drier by the time we'd finished. We made sure all the animals had food, fresh water and fresh bedding and we also kept lovely and warm because we were so active and busy! We filled the hay baskets and buckets for the goats and we fed the chickens and gave them a cuddle.
Have a look at some photos to see how much hard work we did this week!