Please scroll down the page to see photos of our latest sessions.....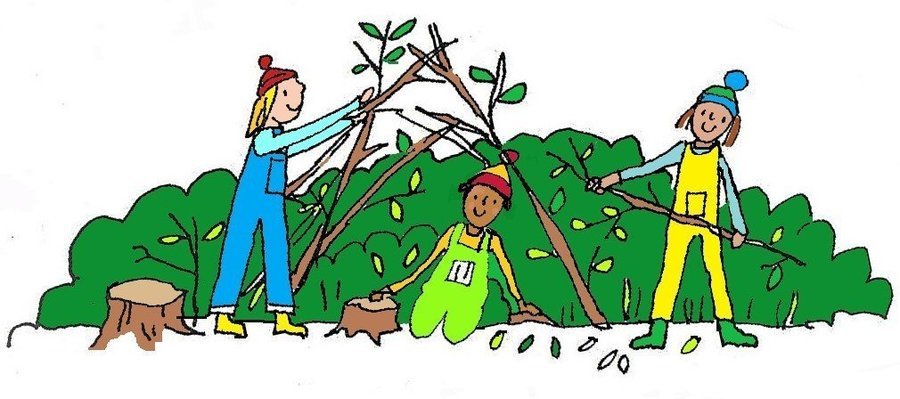 Year 4 (Koalas)
Welcome to your Forest School activities page!
Here you will find details and photos of all our sessions in the Woodland and on the Animal Park. Please scroll down the page to see what we're getting up to each week!
Mrs Bainbridge has split the class into two groups, Group 1 will have their FS session on Tuesday and Group 2 will have their session on Thursday afternoon.
You should all have received a letter from the FS team with important information on the correct clothing that you should bring with you each week. The letter, along with the planning and RA for our sessions up until Christmas can be found by tapping "Menu", "Forest Schools", "Planning and Risk Assessments" on your phone.
If you are unsure about appropriate clothing please visit the main Forest School page where you will find all the relevant information.
Each week we will be visiting our Animal Park and we'll be learning about the needs of our goats, pigs, ducks and chickens. There are still several small chicks and we will be learning about how a chick / duckling is formed inside the egg and about how long this takes.
We will be learning about the seven S's : [ Safety, Shelter, Space, Sustenance (Food and Water), Sentiment (Love), Sanctuary and Stimulation (Playing) ] that are needed to keep all our animals happy and we will be making sure all these needs are met each week.
Please scroll down the page to see a week by week account of our super Forest School learning!
Week 2 - 19th and 21st September
Tidying the Woodland
Two more rainy sessions this week, but everyone had the correct clothing so we didn't get too wet. We spent time on the Animal Park, but because everywhere was so muddy we didn't do many jobs, we just made sure all the animals had food, water, dry shelter, plenty of space to run around (between showers!) and we gave them lots of cuddles too! Shaggy loves to be brushed and we will be doing this each week, so everyone can have a turn.
We headed into the woodland and tidied up the Forest School main site. Some of the dens had collapsed so we moved the branches and made two bug hotels / hedgehog homes / shelters. Tuesday's group litter picked the area and Thursday's group litter picked the area just outside the Animal Park. We talked about how important it is not to drop litter, because it is damaging to our environment.
Miss T re-introduced the Animal Alliteration game and we all chose a name for ourselves. We then learned the Moss Ball Team Game and both groups were really good at this - it takes a real team effort and some good concentration to make it work, so well done Year 4, we'll have another go in a few weeks to see if you can remember what to do!
We also found quite a few acorns on the woodland floor and we learned that acorns come from oak trees and that they are, in fact, a seed... a lot of us didn't know this. There were also some funny shaped acorns and Miss T explained that these have an insect growing inside them, called a Gall Wasp. The larvae cause the malformation of the acorn, but it doesn't harm the tree and is all part of the woodland food chain! We will learn more about this in the coming weeks.
Some of us used sticks to make our names on the woodland floor, and we asked Miss T if we could do more of this next week, so we will make some land art out of natural materials and we can see if we can write our names with sticks too!
Fabulous, you have planned next week's session, Year 4 and this is what Forest School is all about!
Have a look at our photos below.
Week 1 - 12th and 14th September
Visiting our Animal Park
We could not believe how wet it was on our Animal Park after just a couple of days of rain, especially after how hot it was last week! But we were all keen to get out there and see all our fabulous animal again and Miss T said how impressed she was with how much we remembered about how to behave around the animals and about their needs, especially when it's raining!
The goats stayed in their shed to start with because they really don't like getting wet, but as soon as the rain stopped, they came running out to see what fruit and veg scraps we had in our school piggy bucket.. The chickens and ducks were running about and the ducks really don't mind the rain, they just make everywhere even more muddy! We swept the paths, put hay in the goat shed and in their buckets, we raked up the leaves that are already coming down off the trees and some of us remembered the river that comes out of the duck coop when the pond overflows. We made sure it flowed in a channel and through the fence at the back of Horace's paddock... it was very muddy and some of us couldn't wait to paint our faces with mud. We collected lots of hen and duck eggs and couldn't believe the difference in the sizes... duck eggs are blue and much bigger, some of the hen eggs are also blue, but they are much smaller.
Group 2 had a bit of spare time after completing all the jobs on the Animal Park and so we went and had a quick look at the pond. One of us counted 210 water shrimp in the overflow lagoon!
We had two lovely Forest School sessions this week and we're looking forward to exploring the woodland next week.
Have a look at our muddy photos below.