Year 4: Sport Inclusion Activities
Year 4: Sport Inclusion Activities
4 May 2021 (by Miss Johal (Koalas 2020-21))
Year 4 had a visit from Bolsover District School Sports Partnership this afternoon!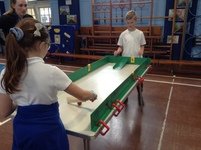 Sport Inclusion Activities
We spent the session learning how to play a variety of inclusive games, including Table Cricket, Seated Volleyball and Boccia. Click on the link below to take a look at some photos from the session.