Meet Boris...
Meet Boris...
19 November 2020 (by Mrs Marshall (Giraffes))
The children were greeted by a very special visitor in the classroom yesterday!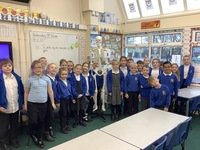 Yesterday, when the children came into the classroom, they were met by a special visitor! Boris had arrived in our classroom to teach us all about the different bones that make up our skeleton. Boris is an adult size skeleton and his bones feel very realistic to give the children an excellent idea of what is actually inside our bodies.
The name Boris was also chosen by the class and I think it really suits him!
Boris will be keeping us company in the classroom for the next few weeks while we answer the question 'Would we be jelly without our skeleton?'