Natural skeletons
Natural skeletons
5 November 2020 (by Mrs Marshall (Giraffes))
We have been collecting natural resources to make skeletons.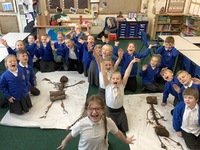 To kick start our new topic, trying to answer the question, 'Would we be jelly without our skeleton?' we made skeletons out of natural resources which we had collected from the playground, including sticks, leaves, moss and stones.
Follow the link for more pictures...