Year 4 Forest School
Year 4 Forest School
28 November 2019 (by jane Thompson (Forest Schools))
A bit more Science this week - and some teamwork games!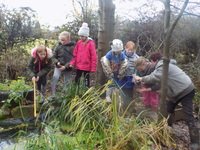 More pond dipping, food chains and classification keys for our science this week, then we used our Friendship Rope and our Moss Balls!
Have a look at photos from our Forest School session this week by following the link below.