F2 - We're Going on a Bear Hunt
F2 - We're Going on a Bear Hunt
20 October 2019 (by Miss Gill (Sheep))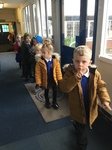 As mentioned before, Sheep Class have been on a bear hunt around the school. We thought about the original Bear Hunt story and how we could change elements to reflect our bear hunt experience. We went through a long dark corridor, a big noisy playground, slippery grass and yellow crunchy leaves. We had to think of the sound effects and actions that we could use for each setting we went through.
Back in the classroom we changed the original bear hunt story map to reflect our experiences and then we practised telling our story. At the end of the week we used the green screen to tell our story just like Michael Rosen tells the bear hunt story.
Follow the link below to see the videos of the original story and the Stonebroom story.