Meerkats - Spotty Maths!
Meerkats - Spotty Maths!
19 November 2023 (by Mr Scott (meerkats))
Year 2 did some super Children In Need arithmetic!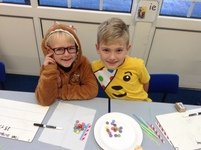 Our meerkat mob looked fantastic dressed in their Pudsey gear on Friday and we did some spotty maths for Children In Need. We used smarties and straws for base ten and practiced adding and subtracting tens and ones. There were some tricky arithmetic questions but the incentive of eating smarties at the end of the lesson worked wonders and we got lots of answers correct!
Click on the link bleow to see some pictures on our Gallery page: