Giraffes - Pre-learning task
Giraffes - Pre-learning task
18 September 2023 (by Mrs Marshall (giraffes))
Take a look at the fabulous creations we have seen in school!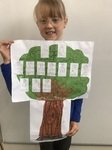 I asked the children to research and present the Tudor family tree and I think you will agree that we have had some wonderfully unique designs!
Well done to all the children who brought in their family tree, these will now be proudly displayed in the corridor outside our classroom.
Follow the link to see all the wonderful designs...