Meerkats Reading Buddy Treat
Meerkats Reading Buddy Treat
26 May 2023 (by Mr Scott (meerkats))
Out treat this half-term was a class Cooking Club!!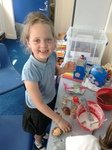 Our fantastic meerkat readers earnt themselves a class cooking club treat this term. We split into groups and made pizza, cookies and cupcakes. We made such a feast, it ran over into our final day!
The reading homework has made a big difference and all of the Year 2 pupils made us very proud with their recent assessment scores. Thank you to all of the parents and grown-ups for your support. I hope the pupils shared their treats with you!