Giraffes - Creswell Crags
Giraffes - Creswell Crags
25 May 2023 (by Mrs Marshall (giraffes))
What a busy week we've had!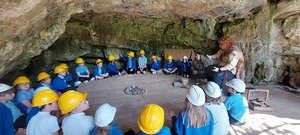 Today we ventured out to Creswell Crags to explore the caves.
We took part in three activities, Mother Grundy's Parlour, Survival Skills and Rocky Relics.
It was a fabulous day with lots of glorious sunshine and the children were very well behaved!
Follow the link to see all the wonderful photos from today...