Monkeys - Nursery Class
Monkeys - Nursery Class
1 April 2023 (by Mrs Beresford (monkeys))
Easter Fun Week!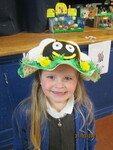 Wow! What an amazing week we have had in Nursery!
Please follow the link below to see our updated Gallery page with all of the exciting things we have done this week! I have also added a link to the Easter song that we have all been singing!
We have taken part in Easter baking, Easter bonnet parades, Easter egg hunts and egg model competitions!
We are so impressed and proud of all our children and parents for their efforts this week!
Thank you for taking part and for helping to make this week exciting and fun for the children!
We wish you all a very Happy Easter!!
The Nursery Team