Monkeys - Nursery Class
Monkeys - Nursery Class
10 March 2023 (by Mrs Beresford (monkeys))
Snow Day Fun!!!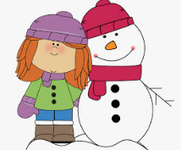 Good morning everyone!
I hope you are all staying safe.
I have added some photos to our class gallery from yesterday! We had a lot of fun playing in the snow at Nursery!
Mrs. Bird helped us to build a snow man!
Please take a look at our photos from yesterday by following the link below!
We would love you to go out and have fun in the snow today! Please share your snow day photos with us! You can send them to us through your child's Evidence Me account or by emailing them to me!
Please have lots of fun today but keep warm and safe.
See you all soon.
Mrs. Beresford
k.beresford@stonebroom.derbyshire.sch.uk