Meerkats – Printing and Meerkat Reports
Meerkats – Printing and Meerkat Reports
28 November 2022 (by Mr Scott (meerkats))
We had a great week in class last week and have some learning to share with you.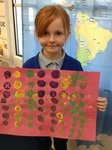 Last week our meerkat mob printed a repeat pattern in our art lesson. Some of the results would make super wrapping paper!
We also completed our non-fiction meerkat booklets. We even made a super cover for our fact books. Ask us all about meerkats – we are now experts!
Click on the link below to see our great work.