Meerkats - Great Fire of London Art
Meerkats - Great Fire of London Art
21 October 2022 (by Mr Scott (meerkats))
We enjoyed printing the Great Fire.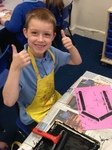 We completed our Big Question work today by printing a scene from the Great Fire of London. We had made our backgrounds using warm colours and collage and created a printing block of a Tudor house ready to print. Using rollers and ink we printed our design and created some super artwork. It was a little bit messy but good fun and the results were amazing. What arty meerkats!
Click on the link below to see our work.
All of our Year 2 pupils have had a super half-term and worked hard every week. It has been a pleasure getting to know this meerkat mob! Have a fantastic half-term break because you all deserve it.
Mr Scott.