Making porridgies!
Making porridgies!
13 May 2022 (by Mr Scott (meerkats))
We were star bakers in class today making a Katie Morag treat!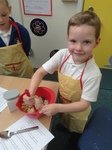 In one of the Katie Morag stories we have been exploring, Katie Morag and her brother Liam have a midnight feast of sweet, syrupy porridgies (flapjack). Today we carefully followed Katie Morag's instructions and made this baked treat. We will write our own set of instructions next week. Once they were baked and golden, we took some home for our own cheeky feast!
Click on the link below to see our fantastic baking skills!