Meerkats - Christmas Stockings!
Meerkats - Christmas Stockings!
23 December 2021 (by Mr Scott (Meerkats))
We had some festive fun in Year 2 this week making Christmas stockings.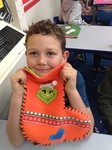 Our Design and Technology project this half-term was to make a Christmas stocking. We investigated and looked at different stockings, taking note of the material they were made from and how they might be used. We then designed our own stocking and developed our sewing skills in making them. The pupils got very Christmassy adding felt decorations and now have a super stocking to hang up for Santa! Merry Christmas Meerkats!
Click on the link below to see us busy in our stocking workshop and the finished products. You can also see the continents mobiles we made as part of our Big Question work.
Wishing the whole Year 2 meerkat mob a fantastic Christmas - you have worked hard this term and deserve a great Christmas break. I hope you have a super time with your own meerkat mobs and will see you again in 2022!