Sheep Class - Lolly the Elf
Sheep Class - Lolly the Elf
2 December 2021 (by Miss Gill (Sheep))
We have had a special visitor arrive in Sheep Class this week, Lolly the Elf!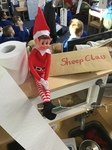 He entered our class through his special elf door with a Christmas tree and a special note for Sheep Class. Today, he decorated our tree with toilet paper! We can't wait to see what he gets up to over the next few weeks.
Follow the link for photos.