Elephants- Pirate Day!
Elephants- Pirate Day!
14 October 2021 (by Miss Rowland (Elephants))
What a busy pirate day we have had!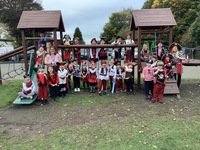 We had to complete lots of challenges throughout the day. Our first pirate challenge was to find gold treasure on the playground, we were all successful and very happy when we found out our treasure tasted of chocolate. After, we had to create our own pirate portraits. We looked at some pirate portraits by famous artists and used some of their ideas to draw and paint our own. Then we were set the challenge of building a big pirate ship- we worked so well as a team and included key features such as the mast and rigging. We then played bingo before lunch, identifying key pirate pictures and words.
After lunch our challenge was 'Can you party like a pirate?' The answer was definitely yes! We went to the hall and completed a pirate themed relay race, played pass the parcel, throw the cannonball and showed off our pirate dancing skills! We ended the day with a yummy feast of hot dog pirate ships, cheesy cannon balls, dead mans fingers and pirate punch! Thank you Elephants for a day full of fun, you are all super pirates! Take a look at some pictures by following the link below.