Nursery - Sibling Day
Nursery - Sibling Day
26 September 2021 (by Mrs Beresford (monkeys))
This week in nursery we have been celebrating our siblings.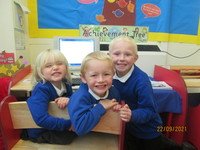 We have been finding out about brothers and sisters and how they are special to us. We invited our siblings from in school to come and spend the session with us. It was lovely to see how everyone got along!
Visit our Monkeys gallery, using the link below, to see our photos from our Sibling Day.
Mrs. Beresford.