Meerkats Class - Science Day Test Flight
Meerkats Class - Science Day Test Flight
21 July 2021 (by Mr Scott (Meerkats))
Our Science Day holdover activities took flight this morning.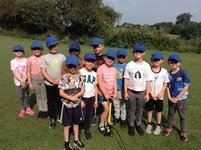 We tested our paperclip helicopters and parachutes this morning with the help of the trim trail. All flew brilliantly - we are excellent engineers! We also completed a bottle rocket investigation. Check out what we did on our updated class blog by clicking the link below.
There are also pictures of our final Forest School session from this afternoon. What a busy day!