Goodbye Sheep Class
Goodbye Sheep Class
21 July 2021 (by Miss Gill (Sheep))
I can't believe we only have one more day left together! I am really looking forward to our astronaut graduation, don't forget your space costume and a change of summer clothes for the afternoon.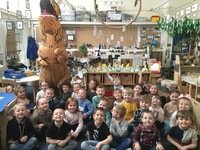 We have had such a wonderful time together in such a short space of time! All of the children in the class are absolutely amazing. They are kind, caring and so eager to learn. All of the staff in Reception are going to miss the children very much when they enter Year One but we wish them the best of luck as they start their new adventure.
Please find a video below of some of our learning this year and a song performed by Sheep Class.