Sheep Class - Bird nest update
Sheep Class - Bird nest update
2 July 2021 (by Miss Gill (Sheep))
We have had a great morning in Sheep Class!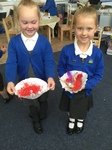 We have been watching lots of videos of Wrens fledging their nest and the mummy and daddy feeding the babies.
We have then completed a range of activities based around birds. We have also checked the nest this morning and it is empty! We think the babies have fledged their nest.