Sheep Class - Dinosaur Disco
Sheep Class - Dinosaur Disco
1 April 2021 (by Miss Gill (sheep))
Mummy dinosaur came to Stonebroom Primary School, we had sent invitations to her the previous day. We were so excited about the mummy dinosaur coming to Stonebroom and she kept making appearances around school throughout the day.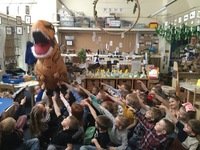 We spent the morning having a dinosaur disco. We played musical statues, musical bumps and four corners. To finish off the disco we had a dance competition to the song 'Walk the Dinosaur'.
When we got back to class, we realised that mummy dinosaur had been in our classroom. There was a trail of egg shells leading to our outdoor area and the baby dinosaur had gone. We searched for clues outside and when we looked in the classroom mummy dinosaur was there again! Mummy dinosaur had left us a letter thanking us for looking after her egg and that she was glad she has a baby back.
We have had an amazing day and the children have been amazing!
Follow the link for photos and videos.