Nursery - Black History Week
Nursery - Black History Week
21 October 2020 (by Mrs Beresford (Monkeys))
We have been learning about Usain Bolt as part of our work on Black History Week.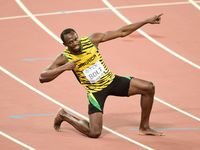 We learned that Usain Bolt is the fastest man in the world. He can run 100m in 9.58 seconds. We wanted to find out who was the fastest person in Nursery. We had races to find out who was the fastest. The winners of each race had to run again in the final. The fastest runner won a gold medal. Take a look at our pictures by following the link below to find out who the fastest runner in nursery was.
How fast can you run?
Mrs Beresford