Dragon Class - trip to The Deep
Dragon Class - trip to The Deep
10 July 2019 (by Mr Platts (Dragons))
The Dragon Class went on their class trip today to The Deep in Hull.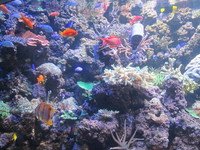 We saw many amazing underwater creatures and habitats and then completed an investigation as science detectives to find out which culprit ate the parrot fish in the aquarium. We had a fantastic day and the behaviour of the children was outstanding!
We are now looking forward to a visit from an expert diver next week.
Please click on the link below to view some of our amazing photos.
Share this: