F2 - Christmas Party Day
F2 - Christmas Party Day
18 December 2018 (by Miss Gill (sheep))
Today has been Christmas Party Day. All the children had lots of fun and even got to take home a present from Santa!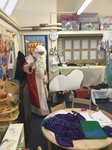 The children started the day watching Carlo the Clown and making party hats. In the afternoon, the children played party games, had some party food and got to see Santa!
Follow the link below for photos.