School Council
School Council
28 September 2022 (by Mrs Marshall (giraffes))
Meet the new members of our School Council.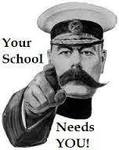 Every year, each class votes for two new representatives to be members of our School Council. It is the job of these representatives to voice the ideas of their class, in ways to improve our school.
Last year, the School Council raised enough money to have a new mural on the playground. Our new members will be meeting soon to decide on an action plan for the year and generate ways they can raise funds for school projects.
I'm looking forward to our first meeting!