Well done Stonebroom footballers
Well done Stonebroom footballers
21 September 2022 (by Craig Moss (sharks))
Our 5/6 football team came second in the local football tournament.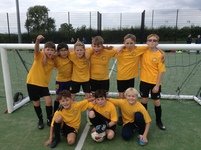 Hi all, I would like to share the news that our upper junior football team has succeeded in getting into the next stage of the competition after finishing second. We will now play other winning teams from Derbyshire.
We are all so proud of every child involved. They all represented the school wonderfully and played with skill.
Also, thank you to the parents for their support today.
Mr Moss and MIss Johal