Year 2 Forest School
Year 2 Forest School
19 May 2022 (by jane Thompson (forest schools))
Jobs on the Animal Park, litter picking and tidying our woodland and looking at micro habitats this week in Forest School!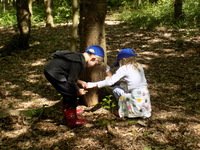 We are getting much more confident with our animals now and we are learning how to care for our woodland!
Follow the link below to see what we have been doing this week in our Forest School sessions.