Year 2 Forest School
Year 2 Forest School
15 May 2022 (by jane Thompson (forest schools))
We love spending time with our animals! We also went pond dipping in the woodland this week..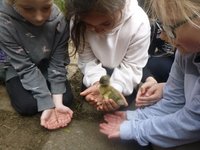 We have ducklings as well as chicks on our Animal Park now!
We learned how to pond dip safely and that it is important to care for the creatures in our pond habitat..
Have a look at our photos by following the lonk below.