Book Fair!
Book Fair!
22 November 2021 (by Mr Scott (Meerkats))
This week we have our Book Fair in school.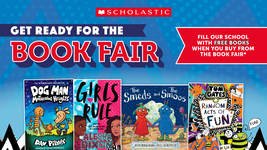 This week we are running our Book Fair. As in previous years, there are many titles to choose from and it is a great way to encourage your child to read and love books. Unfortunately, unlike previous Book Fairs, adults cannot currently come into school to take a look at the titles with their child. Your child will therefore have a look at the books on offer with their class on Tuesday 23rd November. If you wish to send them with money to purchase a book, you can. Alternatively, pupils can jot down a book title that they especially like and, if you wish to, you can pay for this online and then receive the book within a few days. There is no obligation to purchase a book and we are aware that this is not the ideal way to run our Book Fair. It is a good opportunity, however, to promote reading and provide the chance to purchase recommended books.
Full details will be sent home this afternoon on a flyer.
Thank you for supporting our Book Fair!