Reception - Sheep Class
Reception - Sheep Class
3 September 2020 (by Mrs Marsh (koalas))
Good Morning Sheep Class!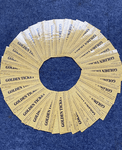 As I arrived at school this morning, I was greeted by Mr Willy Wonka. Willy Wonka owns a chocolate factory.

He told me that his factory had made far too much chocolate and needed some help eating it.

I told him that I knew the perfect class for the job!

Upon your arrival to Sheep Class, you will be given a Golden Ticket. With this, we can go on a chocolate hunt around our new classroom and outdoor area!

See you soon!

Mrs. Marsh