F2 - Forest School
F2 - Forest School
7 May 2018 (by Miss Gill (Sheep))
On Friday the children went into the woods for a Gruffalo hunt! We spent time with the school animals, hunted for the Gruffalo and took part in lots of different activities. Please follow the link for more information and photos.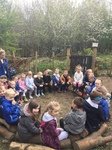 The children were brilliant in the woods, all children took part in the activities and they were all very well behaved! Miss Thompson was very impressed with Sheep Class.
Thank you to the parent helpers that came down to the woods - we would not have been able to go on a Gruffalo hunt without your help!