News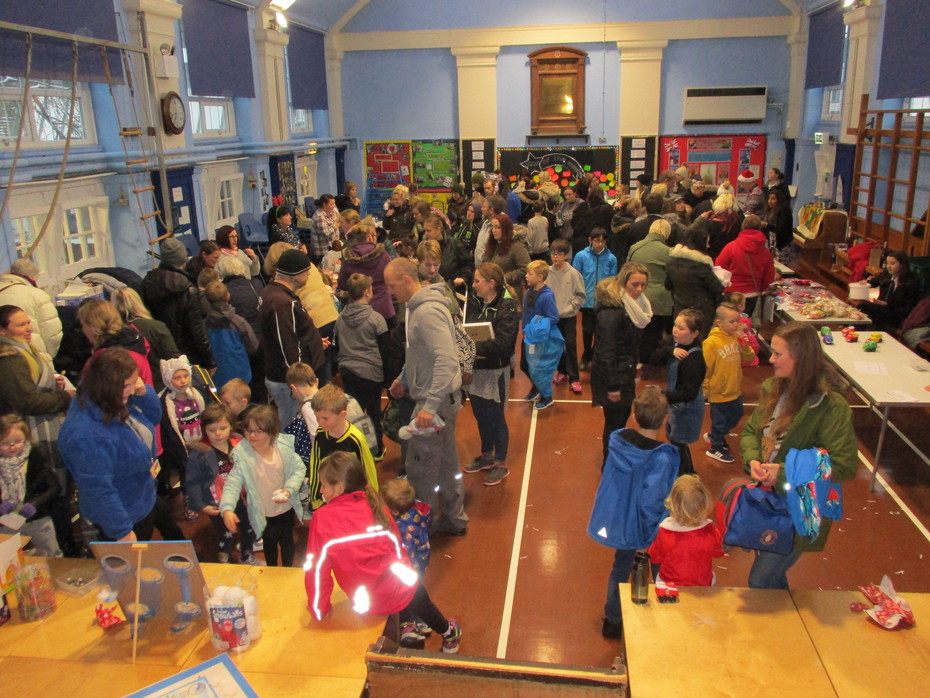 The Friends of Stonebroom are pleased to announce that we made a profit of £619 on the Christmas Fair. We would like to take this opportunity to thank everyone who helped out on the day and everyone that attended and made this event special once again. Item added: Friday 29th December (Mr Walmsley & Lesley Naylor)
The 'Next Event' section of the website has been updated with information about the Christmas Disco and Christmas Fair information. CLICK HERE to see the details. Item added: Saturday 25th November (Mr Walmsley)
Thank you very much to everyone who used their voucher at the school book fair. £827.47 of 'Friends of Stonebroom' money was spent on the event and once this was added to the extra money spent by you, the parents, the book fair raise £856.05 in commission which will be spent on books and resources for school. Personally speaking, it was great to see so many children excited about books. Item added: Saturday 25th November (Mr Walmsley)
At the recent meeting on Tuesday 7th November, the Friends of Stonebroom decided how to spend their current funds. Teacher were encouraged to make bids for the money. The decisions were to give money to the following areas:

Approximately £950 towards giving every child a £5 book voucher. This in turn will mean we can spend 60% commission on:

More books for the school library.

Non-fiction guided reading books for classes.

£400 to Mr Scott to help buy more books for the school library.

£500 to Miss Gill, Miss Walton and their class to help fund the renovation of their outdoor area.
Whilst we were meeting, we also took the opportunity to decide what we would focus on for 2017/18. We currently have just one focus: to raise a further £500 to help renovate the outdoor for FS2. Credit to Miss Gill, Miss Walton and their class on producing a very persuasive pitch. We look forward to working with them to improve their outdoor learning area. We will keep you updated with the progress as and when it happens.
We also agreed to continue funding the following annually: The leavers' trip to Twinlakes in July, leavers t-shirts for all children to sign and caps for every child in school.
Thank you very much to the Friends of Stonebroom members for attending the meeting. Our next event is the Christmas Disco on Tuesday 5th December.
Item added: Wednesday 22nd November (Mr Walmsley)
The next meeting takes place on Tuesday 7th November at 5.30pm, venue, the Parent's Room. It would be great to see you there.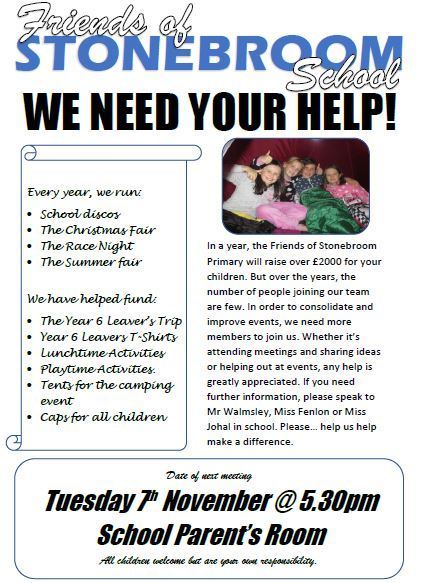 Item added: Monday 23rd October (Mr Walmsley)
The recent Halloween disco raised a superb £162.65. Thank you very much for your continued support.

Item added: Friday 20th October

(Mr Walmsley)
Thank you very much to the Friends of Stonebroom members for supplying tea, coffee and biscuits for the recent parent consultation evening. Hopefully you all will have received a flyer advertising our next meeting. It would be great to add more members to the team. If you can't make the meetings but are happy to help out, please see a team member. Item added: Monday 16th October

(Mr Walmsley)