Ideal Christmas presents - a silent auction
Ideal Christmas presents - a silent auction
5 December 2018 (by J Walmsley (Year 6))
Looking for something to buy for Christmas? Well look at the range of exciting toys that are available in our silent auction.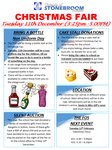 The way our silent auction works is as follows:
1) Have a look at the selection of toys available on the school website ( CLICK HERE) or on the letter that is being sent out tomorrow (Thursday).
2) Write your bid on the form attached to the letter and place in a sealed envelope.
3) Envelopes should then be handed in to the school office OR you can place a bid at the Christmas Fair. The auction closes on Friday 14th December at 12pm.
4) You will only receive a text message if you have won.
5) Your toy can then be collected from the school office on Monday morning (17th December). Payment will be taken at the same time.
Forms & envelopes will be available on the night of the Christmas Fair if you wish to do it then.
PLEASE NOTE: In the event that two bids are the same, a draw will take place to decide the winner.